Home > Communities > Helping Kitties
Helping Kitties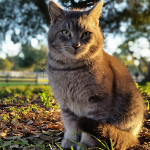 Helping stray and feral cats and kitties in Miami, Florida, USA. Feeding / Fostering / TNR.
There are three colonies (5-6 cats each) plus a pair of cats, all located within close proximity of each other. The pair of cats call a tree their home. Two of the colonies are near buildings and the third is located in a nearby forest.
If you wish to help support this colony, donate an item from their Amazon Wish List.